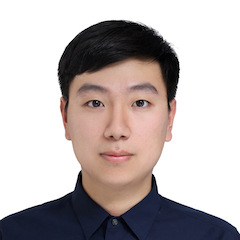 Introduction
Shuai is a smart fast-learner who has more than three years experience in full-stack web development with various frameworks like Django and Rails. He is responsible for designing and maintaining reliable and efficient web backend services. As expected to be graduated from
UC, Santa Cruz
in Jan, 2019, now Shuai is actively seeking for full-time SDE position in 2019.
Research Interests
Shuai has research interests on computer vision with special interest on object detection, tracking or research related to facial attributes and human activities or gesture.
Personal Passions
Science fiction and sci-fi movie lover.
What's new?
June. 2018. Shuai joined the back-end development team at Riverbed Technology as Software Engineering Intern.
Sept. 2017. Shuai came to UC, Santa Cruz pursuing Master degree in Computer Science.
Mar. 2017. Jianzhu Guo and Shuai proposed multi-modality method with Visual and Geometrical information, and their approach resulted in first place on Joint Challenge on Dominant and Complementary Emotion Recognition, FG 2017
June. 2016. Shuai received his bachelor degree and graduated from Macau University of Science and Technology with first class honors.